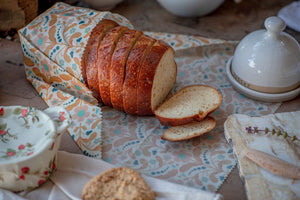 The XL Wrap is 20" by 15" which is large enough to wrap a loaf of bread, heads of lettuce and kale, pans and casserole dishes, large vegetables and even watermelon! You can cut it to size for smaller wraps as well. The colour will be randomly chosen based on what is available however please feel free to leave a note at checkout or send an email to let us know if you have a colour preference. 
Ingredients
100% GOTS Certified organic cotton, Local Beeswax, Pine tree Resin, Organic Jojoba Oil
Instructions 
Use the warmth of your hands to mold around food and bowls. Not recommended for meat or covering hot food.
To wash, simply wipe or rinse in cold water with a mild soap. Air dry