Handmade on Salt Spring Island. Using only top quality ingredients. Our beeswax wraps are perfectly pliable, adhesive and long lasting. 
Storing Your Food with our Wraps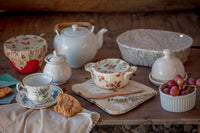 About
Salt Spring Island Beeswax Wraps are an all- natural cling wrap that are reusable, anti-bacterial and compostable. They keep your food fresher for longer by mimicking what a peel does for an orange; keeping the moisture in while also allowing it to breathe. They are handmade with Oeko-Tex Certified Cotton, local ethically sourced beeswax, pine tree resin and organic jojoba oil. With proper care, they will last up to a year or longer.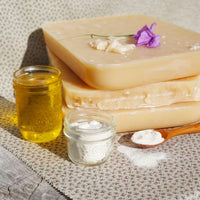 Sustainably Sourced Ingredients
The three ingredients that make up our special beeswax wrap recipe are certified organic and have been farmed and harvested using sustainable practices. This has been our top priority since day one!
Learn more about each ingredient and their source here. 
Learn more here
Testimonials
"Can't recommend these beeswax wraps enough! I have several sets, and love them all. Gorgeous printed fabric makes for a beautiful, practical piece of art covering my dish-ware and produce!
I use them for wrapping avocado halves, cheese, burritos, sandwiches, and for covering dishes and tupperware. Great for carrying items around.
Durable, long-lasting, easy to clean, and perfect!"

Seraphina
"In our house, cheese is life and life is all about dat cheese. We love these beeswax wraps because they prevent our hard cheese from going mouldy and gives them a way longer life in the fridge without drying them out. I also love using these for covering large bowls with leftovers in it, wrapping avacados, and even making little snack packs for my almonds and other treats. These are so handy to have!

I have other beeswax wraps and prefer these because they are sticky yet not too sticky, rigid yet malleable.... you got it just right!"

Katie Pfeifer
"Ssi beeswax wraps are fantastic, my family doesn't use any plastic wrap any more! Easy to clean, they smell amazing every time I bring them out to wrap up leftovers. I'll gladly buy more!!"

Morgan
"Beautiful food wraps and quality products! nicely done!"

Gillian
"Best wraps ever! I use mine to wrap cheese, fruits and veggies, sandwiches/wraps/bread, cover bowls, and anywhere else to replace plastic. They really do keep foods fresh and tasty"

Arlene
"They smell wonderful and work very well. I have been using mine at least 6 months and still work great!"

Lori
"These wraps are great! Excellent 'cling factor' and keeps stuff super fresh in the fridge!"

Daniel
"I love my SSI beeswax wraps! I use them for everything from wrapping a sandwich to go to topping a bowl or fruits/veggies. They are good for honestly everything! I also got some for my mom for Christmas and I wasn't sure she was going to use them but she loves them. She says she also uses them as non slip surface to put things on when she's cooking. So many uses!

These wraps are awesome, everybody needs some!"

Emma
"I love using these wraps when I make sauerkraut and pickles, they stick amazingly to my glass jars and ceramic crocks and keep fruit flies out while being breathable. Easy to check and reseal."

Erinanne
Photography by Rea Zogia of MoonRay Designs 
Natural Ingredients

Made with local beeswax, pine tree resin and organic jojoba oil.
Our Sunny Studio

Everything is handmade on Salt Spring Island in BC, Canada
Made with 100% Organic Cotton

To reduce our impact on the environment as much as possible, we use only GOTS Certified Organic cotton made without pesticides or harmful chemicals
Natural Ingredients
Made with local beeswax, pine tree resin and organic jojoba oil.
Our Sunny Studio
Everything is handmade on Salt Spring Island in BC, Canada
Made with 100% Organic Cotton
To reduce our impact on the environment as much as possible, we use only GOTS Certified Organic cotton made without pesticides or harmful chemicals